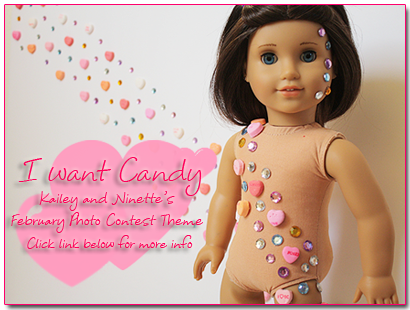 "The Valentine's Day Bedazzler Strikes Again"
Syd's Not! Entry


I Want Candy!


Everyone loves candy, even AGs!
Do yours love to munch on Skittles? Hold lavish parties with Candy Corn? Or maybe they're a bit more avaunt garde and like to wear dresses of Twizzlers?

Go wild, be creative, dust off that Christmas candy you've still got lying around, and send us photos of your dolls and candy.
Anything goes, as long as we've got an American Girl interacting with some kind of sugary nibblet!



Photos are due by 6pm on Friday, February 19th, 2010
After 6pm, any bribes attempts will be considered, erm, I mean,

ignored

, and no more entries will be accepted.
There
will
be a prize for this contest, but I've yet to pick it up/decide what it will be. Please stay tuned for that info! We'll let you know ASAP.
The

rules

and

fine print

from January apply. If you're new to entering the contest, please take a few minutes and run through that blog here

This isn't addressed in that blog, but I'd like to mention that
entries are welcome no matter where you live! You don't have to be in the U.S.
As long as you've got a postal service of some sort so that I can mail your prize to you should you win, you're more than welcome to enter!

Please e-mail all entries and parental permission (if under 18) to Syd at

starrvingartist@yahoo.com



Questions, comments, and death threats can also be sent to that e-mail, and I will get back to you as soon as possible.

I'd also like to mention again that this contest is in no way endorsed or affiliated with the website AGPlaythings. It is run solely by Syd and Aaryana.
We are also not affiliated with Mattel or AG in any way.



This Contest is also strictly for fun, not profit, and it is totally free of charge.




If someone tries to charge you regarding this contest, it's highly possible that my money hungry, slightly-less-than-honest #30, Kei, has hijacked my laptop, and such e-mails should be ignored.