The prize for "I want Candy" has finally been purchased (I know, took me long enough!) and we're ready to announce it!
The newest addition to our family, Tatiana, is tired of the dreary rain and gray skies, and is ready to hit the beach in this month's prize! Get a jump start on summer with the AGP exclusive,
Summer Accents
.
This set comes with a
headband
to keep her hair out of her eyes on windy days, a pair of
sunglasses
to protect her eyes when she's taking long walks on the beach, a pair of
socks
and a pair of
shoes
to slip into when she's done swimming. We also picked up a
bucket hat
to go along with this set, when your girl is tired of wearing her headband!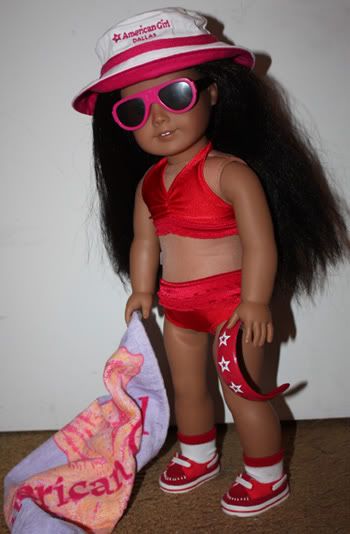 Tatiana's towel and swimsuit are only here for artist license, and aren't part of the set.
Tatiana tried on this collection for modeling purposes, but otherwise, everything is brand new and was put back into its box after our little photo shoot. The hat still has it's tag from AG on it, and Tatiana would also like to mention that her feet are clean and not all stinky, so the socks and shoes are safe. :D
A photo of her wearing the headband: